In Memory
Ross Harbaugh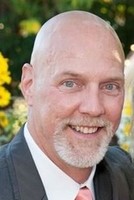 Ross passed away May 31st, 2015.
From his obit: "Ross Brian Harbaugh, age 54, of Lubbock, Texas, died Sunday, May 31, 2015. He was born March 14, 1961 in Dallas, Texas, to Phillip and Irma Harbaugh. He graduated from Floyd Central High School in Floyd Knobs, IN., in 1979, before attending Texas Tech University. He began working for DeSoto, Inc., in Garland, Texas, then, in 1991, he moved to Amarillo, to work for Browning Ferris/Republic Services. He recently moved back to Lubbock, where he worked for Red J Services. His greatest loves in his life were the times he spent with family and friends. He was a passionate hunter, golfer, camper, cook and fan of all sports; cheering and supporting Texas Tech football, was his all-time greatest sports passion. Ross was a consummate adventurer, always planning the next greatest outing for his family; time spent on the houseboat in Utah, camping and hiking through Palo Duro Canyon, soaking up the sun on the beaches in San Diego, Saturday's at Buffalo Springs Lake and time in his own back yard with his children. For Ross, loving, supporting and providing for his family was number one on any of his lists of to-dos.
He is survived by his loving wife, Wendi Kay Harbaugh; daughters, Stephanie Longmire and her husband Clayton, Samantha Stephens, Hannah Stephens; son, Flint Stephens, all of Lubbock, Texas; brothers, Jeff Harbaugh and his wife Sarah, of Keller, Texas, Phillip Harbaugh, of Lanesville, IN; mother and father in-laws, Kim and Bryan Wimberly; grandmother-in-law, Barbara Burge; sister-in-law, Christi Mitchell and her husband Glen, of Odessa, Texas; nieces and nephews: Courtney Harbaugh, David Harbaugh, Phillip Harbaugh, Sean Mitchell, Miranda Mitchell, Paije Holiman, Zsanette Mitchell, Breanne Carnes and many close friends he considered family."